PT Nur Dewata
Overview
DJS organises local and international airline ticketing to ease the burden on tourists who wish to travel to Bali or other islands in Indonesia. Bali is very famous and popular amongst foreigners who come to the island for a variety of reasons.
Considering the rapid development of tourism in Bali, Mr. Eswenti Sanato wished to take an active part in the travel sector.
In 19 January 1989, he and his colegues established a tour and travel service called DJS. DJS staff organise, sell, and take care of tourist packages both locally and overseas, as well as all related regulations.
How to reach us
Office
Jl Danau Tempe No.91. Box. 3719 Denpasar 80037, Bali Indonesia
Tel. (62) 361 723803 (Direct phone); (62) 361 728483 (Hunting) Fax. (62 361) 728481
Office Hours
Open 09:00 to 17:00 Mon. to Fri. Saturdays 09:00 to 13:00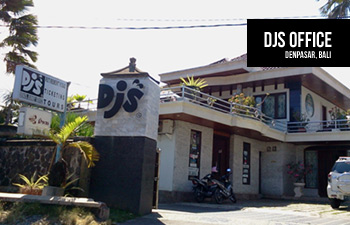 Services
We provide a lot of Tour and travel services choices. Starting from Tanah Lot Tour, Kecak Dance and other Bali tours to other cities tour such as Borobudur and Prambanan tour in Jakarta
See the full information about the services we offer by clicking this bali djs tours